15 Weeks Until The 2020 Presidential Election. Biden Up Big
With the presidential election only 15 weeks away from tomorrow, I'm going to take the time on my blog every Monday do what I've been doing every four years since 2000 – predict elections and give some analysis of what is going on.
Below is the consensus Electoral Map according to Political Wire's Taegan Goddard, whose blog I've been regularly following since, oh, about 2006.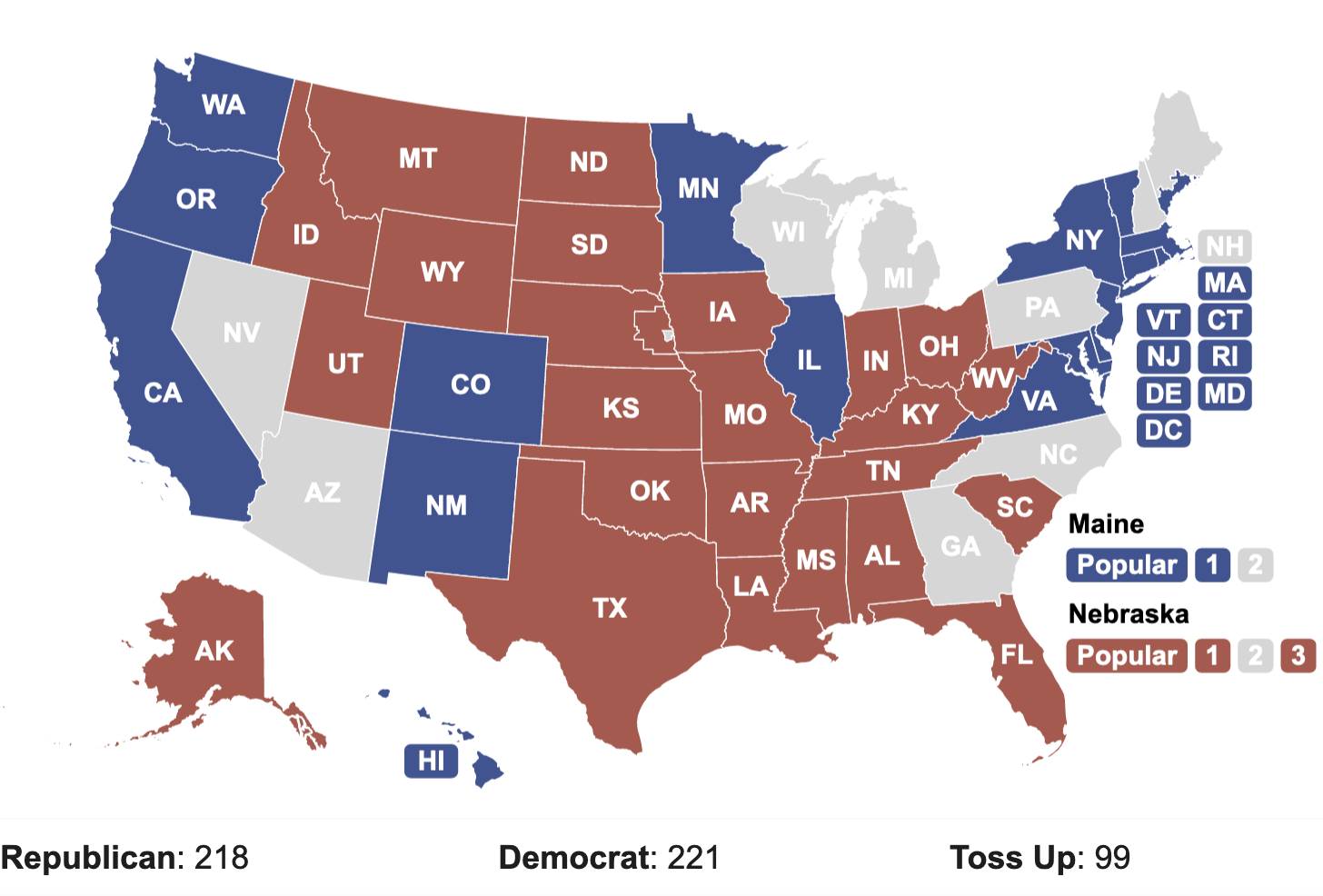 So a lot to unpack here. First of all, you've probably noticed Texas is one big tossup on the map. Taegan's map is the consensus of five electoral forecasts; Inside Elections; CNN's Harry Enten; Larry Sabato's Crystal Ball; Cook Political Report and the Bitecofer Model, the latter of which hasn't been updated since pre-pandemic. Some of them have been influenced by recent polls to shift Texas into tossup territory, and COVID-19 slamming the state this summer has also provided some context into how bad Trump's numbers are or may get there.
I'm not just I'm ready to buy a Blue Texas just yet, but I'm warming up to it. As 2018 showed us, the state's suburbs, once a bastion of conservatism, are moving left fast. In 2018, Democrats picked up two suburban House seats; the 32nd District outside of Dallas and the 7th District in Houston, and came close in several others. Democrats are seeking to pickup several competitive GOP-held House seats in the Lone Star State this year, including in the vast 23rd District, which spans the Rio Grande Valley from El Paso to San Antonio; the 22nd District (and former Tom DeLay stomping grounds) in suburban Houston; the 24th District in suburban Dallas/Fort Worth and the two badly gerrymandered Austin-based seats, the 21st and 10th. Democrats will be pouring money into the state downballot, let's see if Biden follows.
The other consensus tossup states are Arizona, Georgia, North Carolina, Ohio and Iowa. I think that's right, although I'm still skeptical about Ohio and Iowa considering how far right they moved in 2016, but Iowa snapped back in 2018 and there's a marquee Senate race there between Republican incumbent Joni Ernst and Democratic challenger Theresa Greenfield. I also think that while tossup may be the right call here, Arizona might have already slid into the Biden column, though perhaps not by much. COVID-19 may be what sinks Trump there as well, as the Grand Canyon State is struggling with one of the biggest epidemics right now. Also, incumbent Republican Sen. Martha McSally is running well behind her Democratic challenger, Astronaut Mark Kelly (who is also the husband of former Congresswoman Gabrielle Giffords who survived an assassination attempt in 2011). Also, Arizona's election will be overseen by Secretary of State Katie Hobbs, a Democrat.
I'm not buying Florida anywhere left of Tossup at this point, although the COVID-19 and an unpopular GOP governor may be enough for Biden to win there.
One consideration I'm taking is who is running elections in these states. Georgia, Florida, Ohio and Texas will all have Republicans overseeing the voting, and we saw how that worked out in Georgia in 2018.
The good news for Democrats is that it seems Biden has opened up a stable lead in the Obama-Trump Rust Belt states of Wisconsin, Michigan and Pennsylvania that eluded Hillary in 2016. All three saw Democratic sweeps in 2018 in statewide offices, so there's very little chance of GOP shenanigans there. (Or in North Carolina, where Democrat Elaine Marshall is Secretary of State).
I also think if the election was held today, Biden would carry Nebraska's 2nd District and its Electoral Vote. Nebraska and Maine allocate their electoral votes by Congressional district and two are given to the statewide winner. In 2008, Barack Obama won Nebraska's 2nd District, which is based in Omaha. Democrats are contesting the seat in the House and the Omaha market also reaches competitive Iowa and the Des Moines/Council Bluffs-based Iowa 3rd Congressional District, a Democratic pickup in 2008 the party is defending. In 2016, Trump won Maine's 2nd District, which includes almost all of Northern and Central Maine. As of now, I see Biden squeaking out a win in Maine's 2nd District thanks to the coattails of freshman Democratic Congressman Jared Golden, Democratic Senate candidate Sara Gideon and the general depression of Trump's numbers in the Northeast.
Alaska, Montana, Kansas, Missouri, South Carolina and Indiana are solid red states that some of these forecasters have moved into a slightly more competitive category. If the election slips further from Trump, except these to be states to watch. All but Missouri and Indiana have Senate races this year where Democratic candidates (or in Alaska's case, an Independent) have raised a lot of money.
For Democrats, Virginia, Colorado, New Mexico and Maine's two statewide Electoral Votes are safely in Biden's column for now (Maine's 1st District Electoral Vote was never in play for Republicans). Nevada, Minnesota and New Hampshire are also sitting deep in Biden territory but could become competitive if the election starts to move Trump's way. He came within three points of winning them all in 2016.